Description
Nikon Z6 FX-Format Mirrorless Camera Filmmaker's Kit
Characterized by its adaptability, the Nikon Z6 is the brand's newest "all around" mirrorless camera system. Featuring a large diameter Z mount with a short flange distance of 16mm, the Z6 is part of Nikon's next step in delivering higher image quality and more advanced optics. The camera features an FX-format 24.5MP BSI CMOS sensor and the EXPEED 6 Image Processing Engine to deliver exceptional processing speed and image quality with an impressive ISO sensitivity range of 100-51200. Effortlessly produce spectacular UHD 4K (3840×2160) 30p videos and 24MP images at up to 12 frames per second with the NIKKOR Z 24-70mm f/4 S zoom lens, which offers a versatile zoom range that's ideal for a variety of shooting styles and subjects. The Nikon Z6 Filmmaker's Kit includes the following accessories to get you started: the FTZ Mount Adapter that expands the number of compatible F-mount lenses, the 5" Atomos Ninja V touchscreen video recording monitor that you can mount on top of your camera for higher-resolution video playback, the Moza Air 2 3-axis handheld camera gimbal for incredibly smooth video capture, and the Rode VideoMic Pro Plus for capturing professional-quality audio.
Welcome to a New Era of Nikon Imaging
ALC: Hands-On Review with Tamara Lackey: Testing the New Nikon Mirrorless System
I was lucky enough to spend a full week shooting nearly non-stop with the new Nikon mirrorless system. I may have stopped for sleep a bit, but otherwise, I was able to shoot in multiple regions throughout the Yucatan Peninsula and then flew a few hours up north with our crew to Guanajuato, Mexico. And then I shot a whole lot more. I was able to put the new system through the paces — shooting in large, rainforest-like sinkholes, in pitch-dark caves, at pink lagoons, above colorful landscapes, and in and above the streets of a large, sprawling city.
My first impression of the new system is pretty straightforward: It's just extraordinary.
A system born from an unending quest for perfection.
A system that opens a new dimension of possibilities. A system inspired by the past but designed for tomorrow. A system only Nikon could create.
Feel & Handling
Proven form factor
Inspired by D850, Z series cameras embody the elegance, durability, handling and operation of award-winning Nikon DSLRs—just in a smaller package.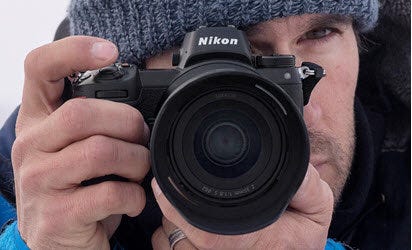 A mirrorless you can hold
A large, deep grip for balanced handling, even when using large telephoto F-Mount Nikkor lenses. Comfortable ergonomics, thoughtful button placement and an easy to use GUI.
The Nikkor legacy continues
The front line of the imaging revolution
Meet the first in a new generation of Nikkor lenses. Designed around the new larger Z Mount and beautifully matched to Z series cameras, Nikkor Z lenses embody the ultimate in image quality with near-silent operation—all in a smaller, lighter package.
The lenses you love, enhanced by Z
With the optional Mount Adapter FTZ, Z series cameras are fully compatible with over 90 F-Mount Nikkor lenses, which retain all their sharpness, rendering power and functionality. Plus, they gain so much—smooth, fast Hybrid-AF*, silent shooting, in-camera VR and more. In total, approximately 360 F-Mount Nikkor lenses can be used.
$100 Instant Savings on one (1) Mount Adapter FTZ when purchased together with Z6 or Z7 camera.
*Full AF/AE supported when using FX or DX AF-S Type G/D/E, AF-P type G/E, AF-I type D and AF-S / AF-I Teleconverters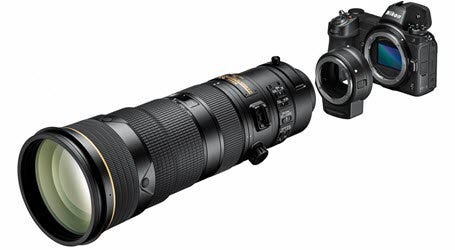 Innovation
The most advanced imaging system available
The technology may be all new, but the ingenuity is all Nikon.
Full Frame brilliance
At the heart of Z series cameras are FX-format image sensors designed by Nikon to make full use of the extra light provided by the large Z Mount.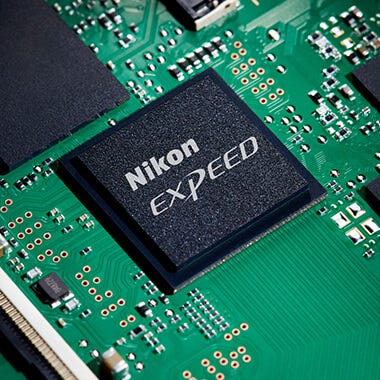 Brains and beauty
EXPEED 6, the most advanced Nikon image processing yet, powers breathtaking image quality, liberating low-light performance and versatile video capabilities.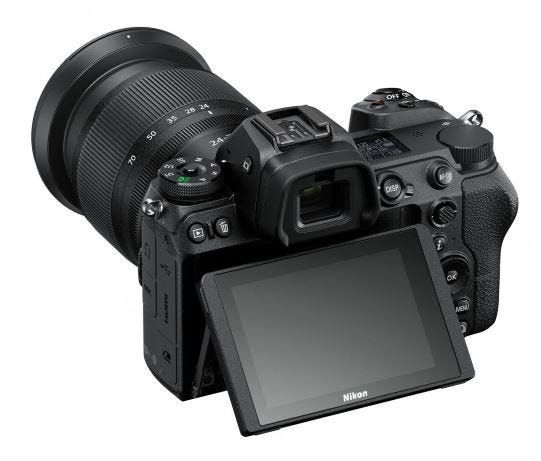 Rock-steady with any lens
A 5-axis optical VR system is built right into Z series cameras for up to 5 stops* of image stabilization when using Nikkor Z lenses and up to 3-axis VR when using F-Mount Nikkor lenses**. Additional electronic VR (e-VR) can be combined during video capture.
*Based on CIPA Standards. This value is achieved when the Nikkor Z 24-70mm f/4 S lens is attached, with zoom set at the maximum telephoto position. **Full AF/AE supported when using FX or DX AF-S Type G/D/E, AF-P type G/E, AF-I type D and AF-S / AF-I Teleconverters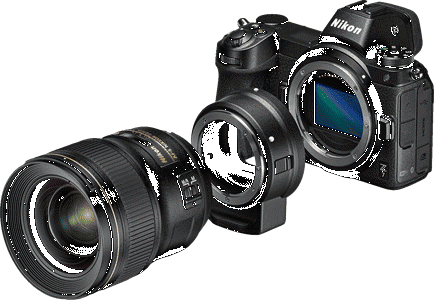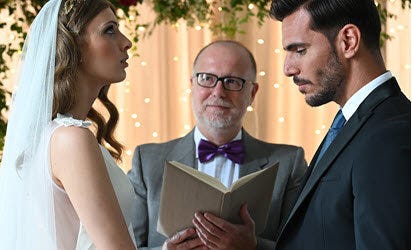 Golden silence
Mirrorless design, on-sensor PDAF and whisper-quiet lenses let you shoot with complete stealth. Capture special moments without interrupting them.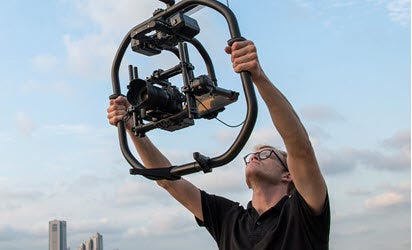 Powerfully cinematic
The video advantages of mirrorless design—fast, accurate on-sensor Phase Detection Auto Focus (PDAF), in-camera VR and a brilliant Electronic Viewfinder—plus the most robust 4K UHD video feature set on any Nikon camera yet.
Shown with optional ME-1 Microphone and third-party Camera Rig.
Let there be more light
New Z Mount – 17% Wider with 65% slimmer flange*
The largest full-frame mount on any camera system. At 55mm, it's the largest full-frame mount on any camera system**, allowing more of everything: more light capture, more data sharing between lens and camera and more image quality performance.
And by seemingly breaking the laws of optics with just 16mm of flange distance, Nikon can now deliver smaller and lighter cameras and lens designs impossible in any other mirrorless system.
* Compared to Nikon F Mount
*As of August 23, 2018; image may not be to scale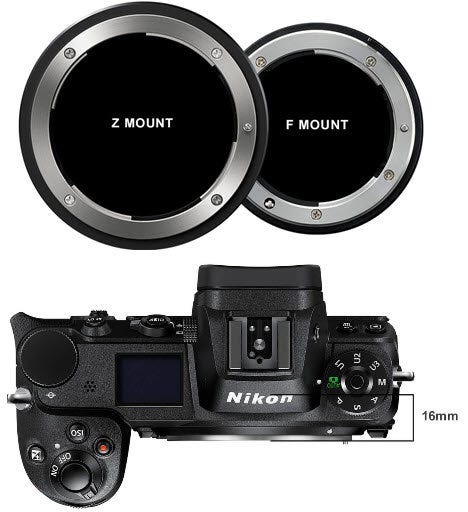 Built for video
Full-frame 4K Ultra HD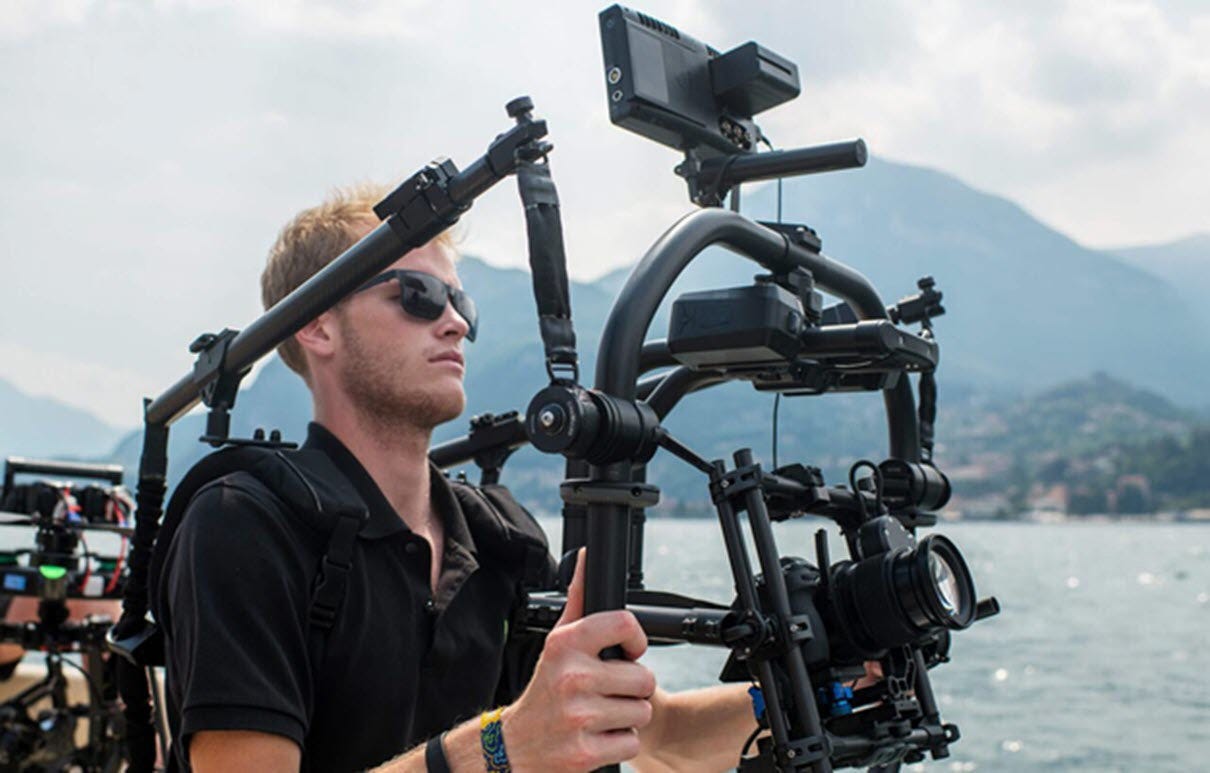 8K Time-lapse: With Z 7, shoot up to 9,999 full resolution stills with zero shutter vibration. Just like D850.
10-bit HDMI Output: Record uncompressed footage with 64X more color data directly to an external capture device. *Compared to 8-bit. Requires optional HDMI Connecting Cable.
Hybrid AF for video: Silky smooth, near silent AF with automatic switching between phase-detect and contrast-detect AF.
New Nikon N-Log: Preserve maximum detail, dynamic range, shadows and highlights for more control in creativity in post-processing.
120 FPS Slow Motion: Bend time with ultra-smooth 1080 120p slow motion sequences.
Composing and Recording
Pure Viewing Experience
Absolutely stunning 3.6M-dot electronic viewfinder designed with Nikon optics for a crystal clear view and a comfortable, intuitive shooting experience. Includes a custom in-screen menu, minimal blackout during fast-shooting, and it can be used during video recording.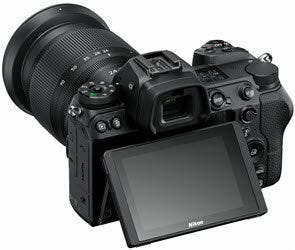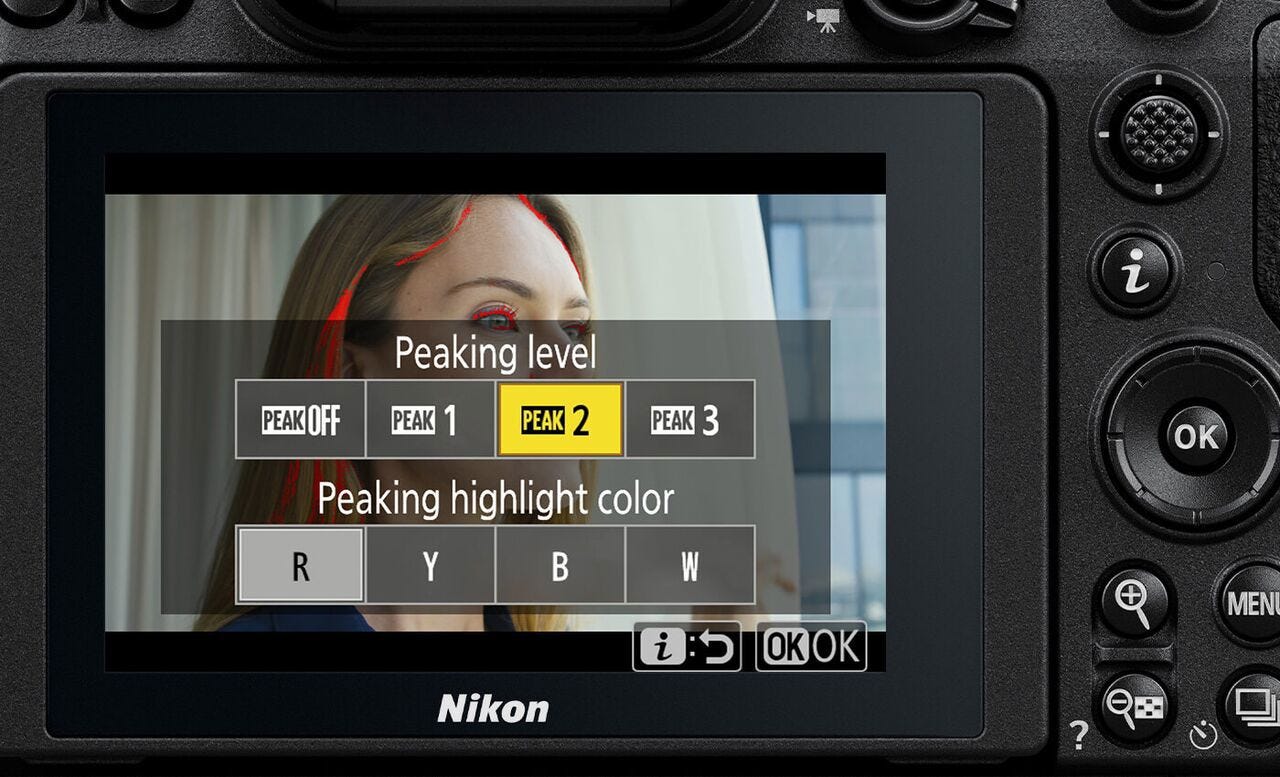 3.2-inch Tilting Touchscreen
Compose with crystal clarity on a large, 2.1M dot display that tilts for easier high and low shots. Touch to focus and fire the shutter. Navigate menus, playback and more as if you were using a smartphone.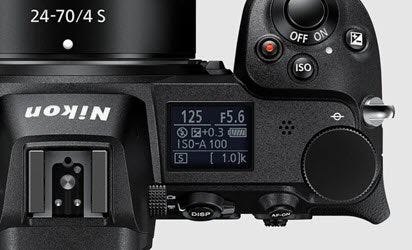 OLED Dot-Matrix Panel
Review key camera settings from the top of the camera on a low-power OLED screen, just like high-end Nikon DSLRs.
The need for speed
Fast continuous shooting
Shoot up to 12 FPS with Z6 and 9 FPS with Z 7 at full resolution in 12-bit RAW or JPEG without the need for an external battery pack.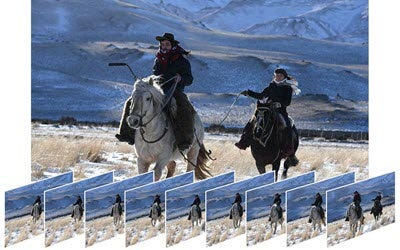 Faster lens-to-camera communication
The Z Mount allows higher-speed, larger-volume communication between the lens and camera body for dramatic gains in AF adjustments and image processing—for today and the even faster cameras of tomorrow.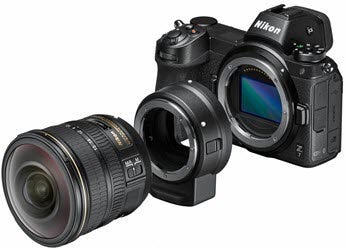 Well connected
Built-in Wi-Fi® and Bluetooth Low Energy
Z series cameras easily connect using Nikon SnapBridge* to compatible smart devices for remote shooting and transferring JPEG photos on the go.
*Download required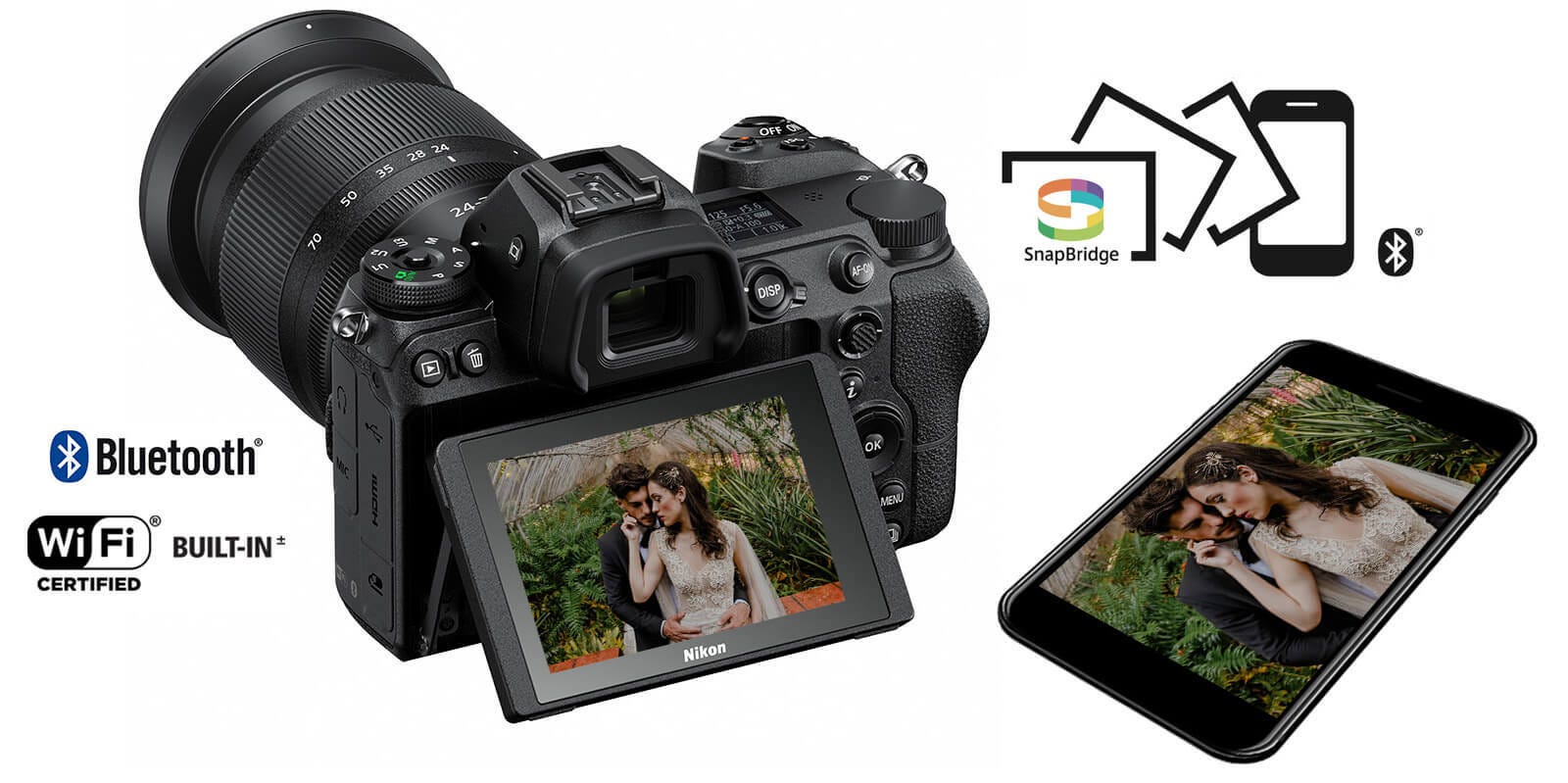 Wire-free to your Mac or PC
Connect to a Mac or PC using Z series cameras' built-in Wi-Fi for monitoring and transferring JPEG, RAW or video.
Moza Air 2 Handheld Gimbal Stabilizer
Pan, tilt and follow moving subjects with all the smoothness and accuracy of high-end studio rigs and dollies. Mount the Z 6 to the handheld Moza Air 2 and off you go. Create dynamic sweeping shots, film from impossible angles and track tough to follow subjects. The Z 6 Filmmaker's Kit also includes the Moza Magic 11.8″ Articulating Arm for convenient attachment of the Ninja V Monitor.
Pure Viewing Experience
Record like a Ninja!
Record up to 4Kp60 10-bit HDR video direct from your camera's sensor, over HDMI 2.0. Store edit-ready ProRes or DNxHR on affordable SSD drives and bypass your cameras internal compression and record time limits. 1TB will give you 2.5hrs 4K on tiny AtomX SSDmini
Share your videos with the world
Host and share your masterpieces on Vimeo with the included 12-month pro-level subscription. Vimeo Pro offers a host of upgraded features like a 4K Ultra HD ad-free player with advanced embed options, video review pages, video analytics, customizable albums, 20GB of weekly uploads and integrations with Adobe Premiere Pro, Final Cut Pro and Dropbox to simplify your workflow.
Adaptability. It's about remaining fluid, open. Preparing for nothing, but being ready for anything. Thriving in whatever situation comes along. The Z 6 is perhaps the most adaptable camera we've ever created. It's at the sweet spot of speed, resolution and low-light performance. All combined with the advantages of a lightweight mirrorless design, a revolutionary new full-frame lens mount with matched lenses and seamless integration with Nikon's DSLR system including the F-Mount NIKKOR lenses you love. This is mirrorless versatility as only Nikon could create.